After a successful first visit to the famous full size Nürburgring racing circuit for the opening round of Season #5 of the Euro Offroad Series, the organisers are delighted to confirm the championship will also conclude at an all new venue.  The fahr(T)raum Museum, a homage to Austrian automotive pioneer Ferdinand Porsche, will host the fourth & final round over the weekend of April 29th to May 1st.  Situated in Mattsee, Austria, the town is no stranger to welcoming R/C racers from around the world having twice been a unique venue for a round of the Euro Touring Series.  Great race hosts, the arrival of the EOS ties in perfectly with May 1st celebrations to throw a racer's party over the race weekend.
Next on the EOS schedule however is Round 2 at the Hudy Racing Arena in Slovakia on November 20-22.  With the world famous rc venue introducing new carpet at last season's finale, that led to a breakthrough in reduced tyre wear, the event will kick off the introduction of a new tyre ruling that limits drivers to just two sets per event.  With the Hudy Racing Arena the only venue on the 2015/16 calendar that will be familiar to EOS drivers, then it is onto Round 3 which takes place at yet another ETS host venue – Muelheim-Kaerlich, Germany. Welcoming offroad racers for the first time, it takes place over the weekend of January 29-31.
Euro Offroad Series Season #5
2015/16 Race Schedule

Round 1 – Nurburgring, Germany
Date: 18th – 20th Sept 2015

Round 2 – Hudy Racing Arena, Slovakia
Date: 20th – 22nd Nov 2015

Round 3 – Muelheim-Kaerlich, Germany
Date: 29th – 31st Jan 2016

Round 4 – Mattsee, Austria
Date: 29th Apr – 1st May 2016
Wednesday, September 30, 2015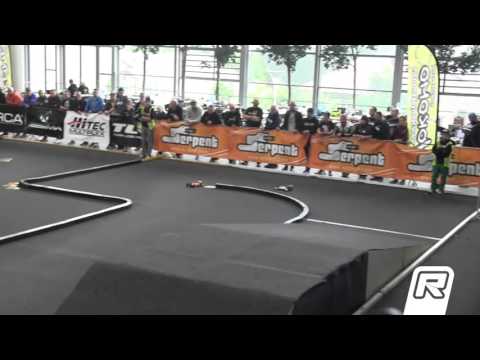 Sunday, September 20, 2015
Lee Martin completed the perfect start to the defence of his two Euro Offroad Series titles today giving Yokomo's new YZ-4 a debut victory to back up yesterday's 2WD win at the Nürburgring season opener.  After a rough opening 4WD A-Main, Xray's Martin Wollanka taking that win, Martin would convert his TQ starting position into wins in A2 and A3 although both Wollanka and Bruno Coelho would make the British ace work hard in the closing race. The Xray drivers would complete the podium with Wollanka achieving his best finish with second and Coelho capping off an impressive EOS debut with third.
Commenting on only his second 4WD EOS victory which comes just ahead of the 1:10 Offroad World Championships in Japan in 2-weeks time, Martin said while that would be a different race today's win was nice as it gave them the opportunity to show the potential of the new car against a strong field something that is very hard to gauge through testing.  Describing the car as being able to 'get around pretty good', he added 'we still have a few things to do, you can't ever stop trying to improve'.  Asked about the deciding 3rd A-Main, he said 'they were hustling me at the beginning but once they had a few bobbles it gave me enough space to change to a qualifying line'.  Having to drive 'a bit defensive' early on he said once he got a gap he was able to run wider qualifying lines lap after lap and control the race.  Describing Season #5 of the EOS as having gotten 'a lot more competitive' he is 'looking forward to the rest of it' adding 'it should be fun'.
'I am happy to get my best result but I am also a little disappointed as I almost had the win', was Wollanka's reaction to his strong showing this weekend.  The Austrian added 'to be genuinely racing against one of the best drivers in the World (Lee Martin) was a good feeling'.  A driver whose main class is 1:8 Offroad, the 1:8 European Championship podium finisher said coming into the event he was still focused on his outdoor racing but for the next round, which takes place at the Hudy Racing Arena, he hopes to have a bit more indoor testing put in.
Commenting on his impressive weekend Coelho said, 'While I always want more, a podium finish is not so bad for my first EOS race'.  The Portuguese touring car star, who made an instant impression on the championship when he took the overall TQ in 2WD, said he learned a lot from the experience. Adding 'I need to relax a little my driving because in onroad when you make a mistake you push to make back the time but thats not possible here'.  Complimenting his Xray team for giving him 'two great cars', him particularly impressed by the prototype 2WD they got just a day and a half before the race, he said he had the cars to win this weekend but just small mistakes meant it didn't happen.  On the third 4WD A-Main in which he finished second he said, 'I overtook Lee but once more I made a mistake'.  Travelling to the World Championships, he said the weekend was 'good experience and practice for Japan'.
'I would have signed for that this morning', that was David Ronnefalk's reaction to finishing 4th overall.  The HB driver continued 'considering what we had this morning its a good result'.  Struggling with the high traction and looking like an also ran until the final two qualifiers, the Swede said the new carpet presented a big challenge adding I need to see if I can convince my local club to get some. With the experience of the weekend the 19-year-old feels he will be much stronger for Round 2 in Slovakia in November. Going into A3 in contention for a podium thanks to his exciting P2 in the opening final, the 2-time 1:8 Offroad European Champion said he couldn't get by Marc Rheinard to run with the top 3, a mistake on lap 7 ending his chances. Behind Ronnefalk, it was Rheinard and his Yokomo team-mate Tom Cockerill who completed the Top 6.
View complete event results here.
View our full event image gallery here.
Sunday, September 20, 2015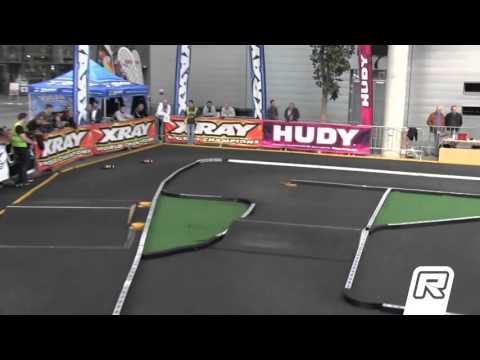 Sunday, September 20, 2015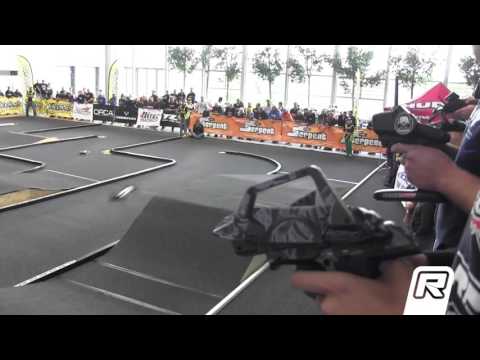 Sunday, September 20, 2015
Martin Wollanka has won the opening 4WD A-Main of the Euro Offroad Series at the Nürburgring, the Xray driver benefiting from a second lap clash between Top Qualifier Lee Martin and Bruno Coelho.  Leading for the rest of the race the Austrian would back off over the closing laps but almost went too slow with HB's David Ronnefalk catching and passing him two corners from home.  However it was Wollanka who came out of the final corner in the dash to the line to win.  Behind them Tom Cockerill, who started 7th would complete the Top 3 with Coelho and Martin coming home 6th and 8th respectively.
Commenting on his win, the Austrian who in the opening qualifier posted his first ever TQ run, said 'I had luck at the beginning' continuing 'I have never had a better car'.  Admitting to think 'shit here comes Ronnefalk', he said he maybe drove the last lap too safe but in the end it all worked out.  Looking to A2 he said 'a lot of people make mistakes, so I will just drive the best I can and see what happens'.
Having not been at the races until the final two qualifiers Ronnefalk said 'I'm happy to be in the final first of all and considering where I have been at all weekend second is a great result'.  Starting 6th on the grid the Swede said he 'hoped something would happen up front and it did'.  In contention with second he said when his pursuer Michal Orlowski made a mistake giving him a comfortable gap he set about chasing down Wollanka.  On making the pass on the Xray driver he said he was surprised he pulled it off and then overshot the next corner allowing Wollanka back by. Still he was pleased to have turned up for the races.
Lee Martin said there was little to say about the race other than he was 'taken out and ended up last with no penalty given'. He added 'it is a shame that this is allowed happen' and maybe he needs to drop a banana skin from the back of his car to be able to try to take out the driver behind him before they do it to him again.
Giving his side of the incident Coelho said 'for me I'm not sure but it felt side by side'.  Waiting on Martin to pass him he said he lost too much time to recover and he hoped for a better A2.
View complete event results here.
View our full event image gallery here.
Sunday, September 20, 2015
Lee Martin has given Yokomo's new YZ-4 its first accolade by becoming 4WD Top Qualifier at the Euro Offroad Series season opener at the Nürburgring.  The reigning champion, who yesterday took victory in 2WD, claimed the honour of Top Qualifier when he backed up his Q3 TQ with another in the fourth & final round.  With the Xray pairing of Bruno Coelho and Martin Wollanka, who TQ'd Q1 & 2 respectively, going into the round in contention for pole, Coelho would make too many mistakes and end up only 12th fastest leaving him to line up 2nd on the grid.  Having had a difficult round 2 & 3, Wollanka would deliver a P4 time to secure the No.3 starting position ahead of Martin's team-mate Marc Rheinard who claimed second in Q4.  Behind Rheinard, HB's David Ronnefalk would surprise with a much needed P3 in the final qualifier which will see the Swede line up 6th on the grid behind Michal Orlowski.
Commenting on the final qualifier Martin said 'I didn't make any mistakes and just cruised round'.  Happy to put the the new car on pole position, he said they are still trying things with more to come from the all new YZ-4 which is making its debut at the German event in preparation for the World Championship.  Having had some fraught finals yesterday when asked about today's encounters Martin simply replied 'there are 9 people out there to beat' adding 'I'm just going testing'.
Describing his Q4 performance as 'so so' saying the car was much better than the driver, Coelho said 2nd for his first 4WD EOS start was ok.  Having impressed by taking the TQ in 2WD, he said that didn't go well due to some bad luck and his inexperience. Aiming for no mistakes this afternoon he said he would still 'fight for the win'.
View complete event results here.
View our full event image gallery here.
Sunday, September 20, 2015
Chassis: Serpent SRX-4
Motor: Orion
ESC: Orion
Batteries: Orion
Radio/Servo: Futaba
Remarks – 3-time EOS champion in the 4WD Buggy class Jorn Neuman is in attendance here at the Nurburgring running a pretty stock version of the SRX-4, only equipped with an aluminium chassis, aluminium rear hubs and the special "EOS" axles and hex designed to match the different offset of the Schumacher wheels. The motor cover has been machined to make room for the cooling fan.
Image Gallery
Sunday, September 20, 2015